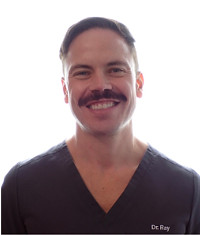 Dr. Ray completed his Doctor of Dental Surgery degree at The Ohio State University, where he also completed three additional years of specialty training, earning his Orthodontic Certificate and Master of Science degree. Dr. Ray has conducted research on several topics, including the clinical use of temporary anchorage devices (TADs) in orthodontic treatment and the use of Cone Beam Computed Tomography (CBCT) in assessing bone mineral density. Prior to his dental and orthodontic training, Dr. Ray earned a Bachelor of Science degree in Zoology from Weber State University. He is a member of and involved with the American Association of Orthodontists and has achieved the distinction of being a Board Certified Orthodontist.
Dr. Ray enjoys being active outdoors, exploring nature and cities and cultures of the world. He enjoys running in Central Park, cycling, reading and spending time upstate with his family and dog. Dr. Ray is a Broadway Theater lover and enthusiast and enjoys supporting arts of all kinds. He enjoys modern and classic film and is a member of an independent film study group.
Dr. Ray has devoted his life to enhancing smile esthetics and function for each of his patients through the art and science of orthodontics.