Meet Dr. Princy Kuriakose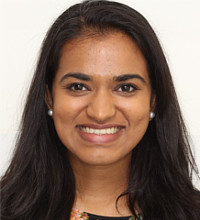 Dr. Kuriakose grew up in the suburbs of Atlanta, Georgia and received her Bachelor of Science degree in Biology from Georgia Institute of Technology and Doctor of Dental Surgery degree from University of Detroit Mercy in Michigan. She continued her education in an additional 3 year advanced training program in Orthodontics and obtained her Master of Science degree from University of Washington in Seattle. While in school, Dr. Kuriakose has been involved in many scientific research projects and has published articles in dentistry journals. Dr. Kuriakose is a Board-Certified Orthodontist, an active member of the American Association of Orthodontists and continues her learning through Orthodontic conferences and continuing education courses.
In her free time, Dr. Princy enjoys exploring new places with her husband, baking and staying active.